Assessment & Analysis
Identify the problem
Determine the suitability of orthotic intervention to address the problem
Define the objectives of orthotic intervention
Determine the orthotic design and suitable orthotic materials

Points to consider:
Condition of the skin with attention to: fragile skin, circulation, wounds, etc.
Sensation
Bony prominences
Pain
Choosing correct thermoplastic
Points to consider:
Localization
Age of the patient
Constitutional type
Pathology

Kids
Teens
Adults
Body part


Finger
Multicast Standard
0.8mm Micro
Multicast Standard
0.8mm Micro
Multicast Standard
1.6mm Micro
Wrist
Multicast Standard
1.6 – 2mm Micro
Multicast Standard
2 – 2.5mm Micro/Mini
Multicast Standard
2.5 – 3.2mm Mini
Elbow
Multicast Rigid
2mm Micro
Multicast Rigid
3mm Mini

Multicast Rigid
3.2mm Non/Mini
Shoulder
Multicast Standard
2mm Micro
Multicast Standard
2.5mm Mini/Multi
Multicast Standard
3mm Non/Mini
Body
Multicast Rigid
3mm Multi
Multicast Rigid
3mm Multi
Multicast Rigid
4mm Mini
Lower leg
Multicast Standard
2mm Micro
Multicast Rigid
3.2mm Mini/Non
Multicast Rigid
3.2mm Mini/Non
Multicast Standard can be substituted by Multicast Ortho depending on processing
and splint preference, e.g. Multicast Ortho is transparent when heated
Material selection - Points to consider:
Multicast Standard is preferable for the orthosis with the small surface.


Multicast Standard is preferable for children.


Multicast Standard is preferable when applied over a bandage. Material does not stick to bandage. Highly recommended for post-operative splinting and burn injuries.


Multicast Rigid is preferable for orthosis with large surface.


Choose a thermoplastic with large ventilation holes, such as Micro and Multi to prevent skin maceration.


If have limited experience with splinting techniques choose Mini perforated plates instead of Multi.


Non-perforated plates are only used for non-circular orthosis that cover less then half of the body surface. Absence of ventilation holes will lead to skin maceration.


Choose Multicast Standard or Multicast Ortho when using Gravity-Assisted Moulding techniques.


For vertical moulding choose thermoplastics with good adhering surface, such as Multicast Ortho or Multicast Rigid.
Producing the custom pattern
1. Position the client's hand and forearm in pronation on the paper towel.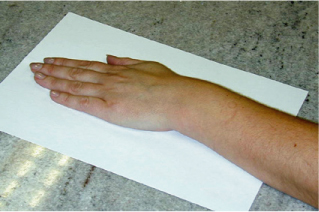 2. Trace around client's hand and forearm and note landmarks.

3. Add guide marks to the pattern.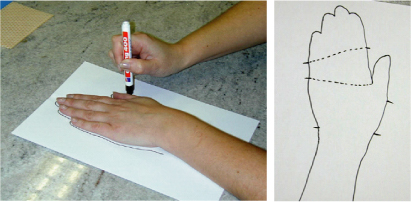 4. Connect the guide marks to create the custom pattern outline.
5. Cut out the paper pattern.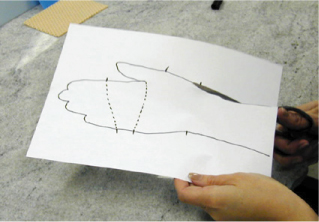 6. To check the fit, apply pattern to the client's limb and position the joints as they will be when orthosis is moulded. Transfer the pattern on the thermoplastic. Size and cut.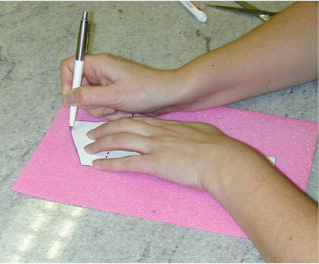 Protecting bony prominences
Flare or dome material away from the bony prominence during the moulding process.

Pad the bony prominence(s) before molding thermoplastic. Don't add padding after moulding because it will compress the tissue over the bony prominence.

Skin problems?
Any kind of thermoplastic material worn permanently by the patient over a long period will suffocate the skin. The material does not breathe and as such does not drain away transpiration and exudation. After some time, epidermis will result.
To prevent skin problems:
Use Micro or Multi perforated sheets. Mini perforated sheets do not improve ventilation: the perforation will only result in local ventilation, near the holes.


Apply stockinet under the thermoplastic (e.g. braces of tibia, humorous, corsets).


Line the splints with felt or self-adhesive toweling cloth. This improves comfort as far as softness and absorption of transpiration are concerned. Before lining a splint with felt, the space occupied by the felt should be taken into account. This can be avoided by attaching felt to the limb or by using a thick stockinet.


Provide a splint with the larger ventilation holes.


Remove the splint or brace for some time every day (if possible).



Processing Methods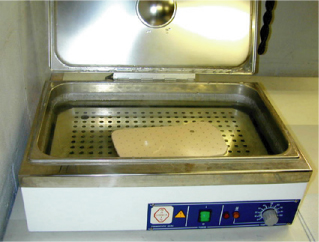 Water Bath - also available from Algeos

The material may be heated in the following ways:
Water (from 60 - 75°C)
Steam (from 90°C)
Dry heat (max 150°C)
Heat gun
Heating plate


Multicast Standard Processing:
The material can be processed after 2 minutes of heating at 75°C (167°F) or 1 minute of heating at 80°C or until a dark "glazy" discoloration has appeared.
After heating in water at 75°C (167°F) lift the material out and place it immediately on a dry towel. Fold half of the towel over the whole plate to dab excess moisture.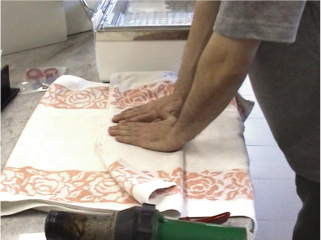 Material can be now placed directly on the bare skin. In the meantime, the temperature has fallen to about 40°C/105°F, which is experienced as agreeable. If working at a higher temperature is required in order to get more modeling time it is advisable to protect the skin with stockinet or another kind of tubular bandage.
Multicast Ortho & Multicast Rigid Processing:
Using a water bath processing temperature is between 60°C-65°C. With an oven: 100°C.
To soften Multicast Ortho or Rigid, place the material into a water bath at temperature 60°C - 65°C (140°F - 159°F) for 60-90 seconds or until sufficiently soft.
When ready, take the material out of the water and place on a flat surface (preferably a wooden board) for 10 seconds. Temperature will immediately drop to 35°C (95°F).

Take the splint with wet hands and position it onto the patient. Immediately afterwards wet your hands with cold water. This will speed surface hardening and help prevent imprints



Adjustment & Trimming
While material is still somewhat warm, use 3-point pressure to flare away from the bony prominences. Correct the gaping trough by squeezing in the sides of the orthosis.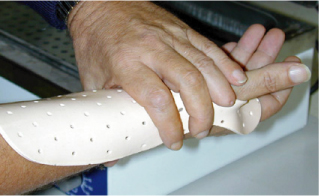 Mark the trip line (with a fingernail or pen). Trim lines to ensure freedom of the joints.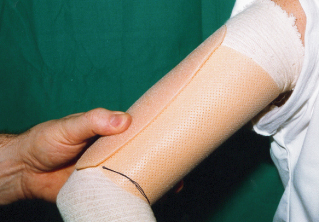 Spot heat the distal edge by submersion in a hot water. Fold the edges as necessary. Reheat and re-cut the edge with long, smooth strokes to remove irregularities.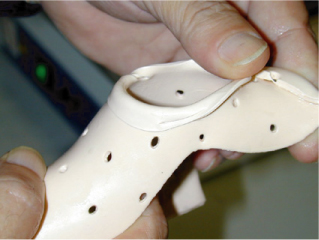 Grind the edges (after cooling!) and cover the edges if preferred.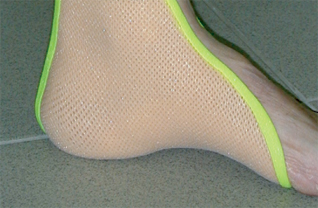 When attaching straps, follow these steps:
Determine the optimum location and width of the straps.
Dry heat the adhesive backing of the hook patch with a heat gun.
Dry heat the attachment site on the orthosis.
Embed one edge of the patch into preheated material.
Remove the paper backing from the hook and fold over one edge of the patch.