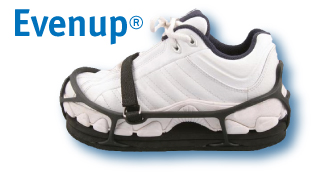 Quick leg length compensation

If one leg is shorter than the other, the Evenup makes both legs even in length, and protects the knees, hips, and lower back from the strain of walking in a cast or cast boot.


Key features:
Easy application and adjustment with nylon straps, thermoplastic rubber uppers, and velcro closure.


Fits a variety of shoes; easily moved from shoe to shoe.


Can adjust height from 1.3 cm (1/2) to 2.1 cm (0.8) in seconds.


Outer sole is made of comfortable and durable EVA.


Universal (fits right or left shoe).